5 Things to Consider When Determining the Best Rewards Credit Card of 2018
Last Update: 5/25/2018
Unlike most Best Credit Card sites, we get zero dollars when you sign up for a credit card, so our information is unbiased.
When it comes to choosing the right rewards credit card, you've got plenty of options. In exchange for making purchases on a particular piece of plastic, nearly everything you can think of is offered - from free airfare and hotel stays to cash back for gas, grocery, restaurant, and travel purchases. The challenge is determining which of the many options out there is best for you. To do so, you need to examine card features, such as how rewards are earned and redeemed, and how those features align with your own spending habits.
Consider the following cards in your quest for the perfect rewards credit card. You will probably want more than one.
Best Cash Back Reward
Plenty of cash rewards credit cards offer a standard 1% cash back on purchases, but some give you options to significantly boost that number.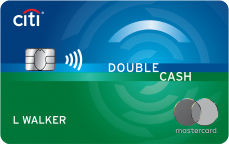 Citi Double Cash Card gives you 1% on purchases and 1% as you pay for those purchases in full or over time. No annual Fee. Unlike many other cash back credit cards, Citi Double Cash has no restricting categories to keep track of or enroll in.
This Citi Credit Card does have a 3% foreign transaction fee, so do not travel with it.
3% Cash Back Card
The Alliant Visa Signature Credit Card gives 3% cash back in the first year, 2.5% there after. $59 annual fee waited for the first year.  No foreign transaction fees.
You do need to join the Alliant Credit Union, and everyone qualifies when giving a donation to a good charitable cause.
2% Cash Back on Everything
Fidelity Rewards Visa Signature Card
No annual Fee. If you don't like rotating categories or if you quickly exceed quarterly caps, try a Fidelity Rewards Visa Signature card - it offers 2% cash back on everything and the rewards are unlimited. The limitation: rewards must be deposited into a Fidelity Account.
The Spark Cash Credit Card from Capital One gives unlimited 2% cash back on very purchase for your business. No minimum to redeem.  The only limitation is that you need to have a business to apply for it. $0 Intro annual fee for the first year, $59 after that. Often has a $500 cash bonus for spending $4500 in 3 months.
5% Quarterly Rotating Rewards
Discover it and Discover More
Chase Freedom
Discover Credit cards come with a 5% cash-back feature on a rotating set of categories throughout the year, such as restaurants, gas & ground transportation, movies, home improvement stores, wholesale clubs, amazon, and online purchases - as does the Chase Freedom card. Both are capped at $1,500 in purchases covered by the rewards each quarter.
You need to keep track of the changes every quarter. If you can do this, sign up for one of these cards.
College Students
Citi ThankYou Preferred Card
If you're attending college, consider the Citi ThankYou Preferred Card for College Students card. You get a bonus of 2,500 Thank You points after spending $500 in the first 3 months and one Thank You point for every dollar spent - there's no limit or cap. 2 ThankYou Points per dollar spent on purchases for dining at restaurants and entertainment. Though not an actual cash-back card, points can be redeemed for gift cards, movies passes, and electronics, among other categories. Investigate the terms of any offer at the credit card's website before applying.
Your Purchasing Habits
No matter what your spending habits are, there is a rewards credit card for you. These cards focus on specific categories and specific stores
Costco
In June 2016 the Citi Costco Anywhere Visa card was released with 4% cash back on gas, 3% on restaurants and travel, 2% at Costco, 1% elsewhere.  A great card if are a Costco member. No annual Fee.
Amazon
If you shop a lot on Amazon, take a look at the Amazon.com Rewards Visa Card by Chase. A $50 bonus is loaded onto your Amazon account when your application is approved. In addition, you earn triple points on Amazon purchases, double points for purchases at drugstores, restaurants, and gas stations, and one point for every other dollar spent. Every 100 points can be redeemed for a $1 Amazon credit and there's no limit to the points you can earn. No annual Fee.
Amazon Store Card by Synchrony Bank gives amazon prime members 5% back. $10 is loaded with approval of your credit card application. It does not give discounts elsewhere.
Groceries
If you tend to spend a lot on food and gasoline, try the American Express Blue Cash Preferred card, which features 6% cash back on groceries and 3% on gas. Grocery rewards are capped at $6,000 in annual purchases but there is no cap on gas purchases.
The American Express Blue Cash Preferred card costs $95 annually, but with its stellar 6% Grocery store cash-back (Upto $6000 a year), 3% gas and department store cash back feature, folks who spend a lot on groceries and gas can easily recoup that expense.
Sam's Club
If you shop at a Sam's Club, their Sam's Club MasterCard is very attractive. 5% for gas (Up to first $6000), 3% for dining and travel, 1% on other items. The card requires a Sam's Club membership which costs $45 a year.
Cash back checks are issued each February for the Cash Back earned during the previous calendar year. Cash back rewards are forfeited if the Sam's Club MasterCard account is not in good standing, if the Sam's Club Membership terminates or lapses, or if the Cash Back earned in a calendar year is less than $5.00. Cash back checks will be made payable to Sam's Club and may be cashed only at a Sam's Club location.
Travel
If you travel a lot, try the Chase Sapphire Preferred card, which comes with a hefty sign-up bonus of 50,000 bonus points after you spend $4,000 in your first three months. A $625 value.
Its ongoing rewards and benefits are good too: You receive 2x points on dining and travel purchases and there are no foreign transaction fees and no caps on rewards. $0 annual fee the first year, $95 thereafter.
Many people use its benefits, then cancel before the 2nd year.
The crazy $450 annual fee Chase Sapphire Reserve card gets you:
50,000 BONUS POINTS after you spend $4,000 on purchases in the first 3 months from account opening
$300 Annual travel credit (Worth $750 toward travel)
3x points on Travel and Dining
50% more in Travel redemption on airfare, hotels, car rentals, cruises
Access to airport clubs
Elite Travel Benefits
Receive up to $100 application fee credit for Global Entry or TSA Pre
The downside when using points at Chase are that some airlines are not available plus some fares are higher than on Expedia.
3. Fees
It's important to review all fees associated with credit cards - annual membership, over-limit, late payment, and foreign transaction fees are a few common examples. Just because a certain card imposes fees, however, doesn't mean you should cross it off your list.
The Chase Sapphire Preferred card charges a $95 annual fee after the first year but if you spend significantly in specific purchase categories you can easily make up for it.
Some folks, on the other hand, don't spend enough to justify an annual fee, and some simply dislike them. If you fall into either of these categories, look into Discover cards, none of which charge an annual fee. Neither do the U.S. Bank Visa Platinum card and the Amazon Rewards Visa Card.
Travelling Abroad
When travelling abroad, never accept the offer to charge your credit card in US dollars.  This scam lets them set the conversion at a really horrible exchange rate, as high as 10 percent above the bank rate.
When using ATM debit cards abroad, beware of "no fee" ATMs setup by firms like Travelex that have horrible exchange rates but no fees.  These are very common at most major airports.
4. Minimize Annual Percentage Rate
Several cash-back rewards cards impose high APRs, which can take a bite out of your benefits if you carry balances. If there's a teaser 0% interest rate for the first several months, investigate what it rises to after the promotional period ends. If you need to carry a balance during that time, be sure to pay it off before the full interest rate kicks in. Generally speaking, it doesn't make sense to use any card with a high APR if you expect to carry a balance - even rewards cards.
The best rewards card typically do not have 0% APR for long periods. Some good bets:
The Capital One VentureOne Rewards card has a 0% APR for the first year and a low APR after that, depending on your credit history.
The BankAmericard Cash Rewards card features a 0% APR for the first 12 months and is as low rate once it matures. To research annual percentage rates, check individual credit card websites. The APR constantly changes.
5. Sign-Up Bonuses
Sign-up bonuses are often the reason many consumers carry the cards they do. After you've used your free round-trip tickets or bonus cash, however, you want to be sure the card you chose continues to reward your spending habits. A few cards with sign-up bonuses and respectable ongoing rewards include the following:
The BankAmerica Travel Rewards card offers 20,000 points after $1000 in purchases within the first 90 days. This is good for $200 statement credit toward travel purchases.
The Citi HHonors Reserve card offers two free weekend nights at a Hilton Hotel after spending $2,500 within the first four months. And the Southwest Airlines Rapid Rewards Premier credit card gets you 25,000 points - good for a free round-trip flight - after you spend $1,000 within the first three months.
Final Thoughts
Although many credit card rewards points no longer expire, some airline credit card miles do. United Airlines miles expire after 18 months of inactivity, and Delta miles expire after 24 months of inactivity. Once you start to build up rewards, don't let them accumulate in your account. If you're not applying cash back to your balance or miles and points to other purchases, you may be wasting money. Pay off your balances in full and on time every month and use your rewards money for purchases, freeing up more cash in your budget for investments, where they can do the most good.
What do you look for when choosing a rewards credit card?
Tags: American Express, Credit Card, Discover Card, Mastercard, Rewards Card, Visa